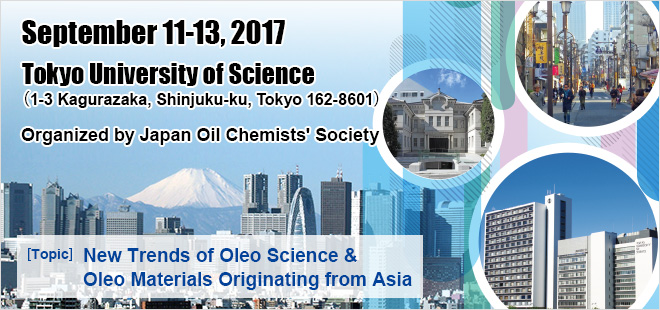 The Japan Oil Chemists' Society will organize the 2nd Asian Conference on Oleo Science (ACOS 2017) and the 56th Annual Meeting of the Japan Oil Chemists' Society (the 56th Annual Meeting of JOCS) on 11-13 September, 2017 at Kagurazaka campus of Tokyo University of Science, Tokyo,Japan.

The campus is located at the very center of Tokyo. Very welcome to this interesting and exciting scientific meeting on oleo science including oil, fat & lipid chemistry, detergent & interface science, processing developments in oil & fat technology, lipid biochemistry, nutrition & biotechnology, biodiesel & biofuel, lipid oxidation & antioxidants, analytical techniques & application, food & feed nutrition, and so on. The meeting is open to the public and scientific communities in the world.
We hope all of you will participate in ACOS 2017 and the 56th Annual Meeting of JOCS for enjoying
both science and sight-seeing around Tokyo.
Foreign Researchers (except for students and Japanese researchers):
We are pleased to invite you as invited speakers. We can exempt your registration fee, but we cannot support your travel fee and hotel fee. If you have an interest, Please contact us.